On 22 May 2023, the EU Competitiveness Council in Brussels adopted the common position on the new Ecodesign Regulation, which represents an important step towards sustainability. Part of this regulation (which is not yet in force) is the introduction of the Digital Product Passport (DPP), which, together with other measures, is intended to help establish sustainable products as the norm within the EU. The DPP plays a crucial role in strengthening the rights of consumers by providing them with information about the environmental footprint of products and thus setting the course for a sustainable and responsible consumer society.
What is the Digital Product Passport and what purpose does it serve?
The Digital Product Passport (DPP) is a standardized data set that summarizes information on all relevant data of a product throughout its life cycle. This includes e.g. information about the materials used, the components installed, and recyclability. This transparent processing is intended to provide consumers with information about the ecological footprint of products, so that they are able to make conscious and sustainable consumption decisions.
In addition, the information provided in the DPP allows the development of sustainable reutilization processes. This allows products to be disposed of in the most environmentally friendly way possible or to be returned to the cycle by recovering and reusing valuable materials. In this way, the Digital Product Passport helps to promote a circular economy and reduce waste.
The following standardized product information is to be freely accessible at any time via the DPP:
Origin and exact composition

Up-to-date assembly and operation instructions, instructions for safe use and user manuals

CO

₂

footprint

Energy balance

Social and ecological manufacturing conditions

Repair possibility

Spare parts list

Recyclability

Proper disposal
Competitive edge through sustainable products
The introduction of the Digital Product Passport offers companies the opportunity to manufacture, use and recycle their products more sustainably. The high degree of data transparency allows the efficient use of valuable resources, which leads to significant cost savings. Based on this, innovative business models can be developed that allow a good position in the competitive market. Last but not least, companies reduce their CO₂ emissions by using the DPP, thereby making an important contribution to climate protection.
Ensuring data consistency for the Digital Product Passport
One of the fundamental requirements for the Digital Product Passport is the consistent availability of data along the entire value chain. To promote the circular economy, companies need access to important information about individual products – anytime, anywhere. In other words, what materials or components they are made of, what substances they contain, what spare parts are available, how they are to be repaired or disposed of properly.
However, efficient data management is often lacking, which can lead to loss of information and missed deadlines. Modern data and document management systems such as Approve on Fabasoft PROCECO offer a way to keep data consistent and transparent along the entire value chain.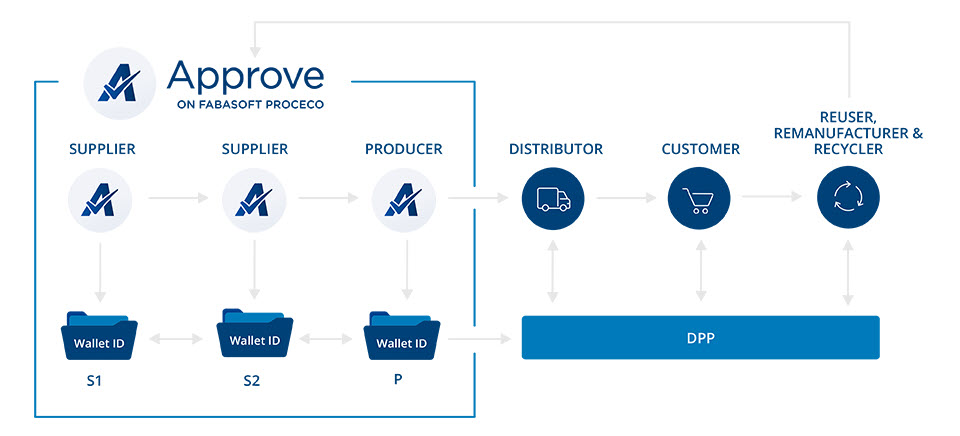 Illustration: DPP enables standardized transparency throughout the entire product lifecycle.
Such systems network the cross-company processes of all project partners such as suppliers, manufacturers and customers on one central platform, thus digitally mapping the complete information lifecycle. In this way, the entire value creation that takes place between companies is presented in a traceable manner.
The Cloud as a supporting pillar
Cloud technology plays a crucial role in the implementation of a data and document management system. Storing relevant information in a shared data environment enables easy access for all persons involved as well as joint processing of important documents. This leads to a so-called "single source of truth" in which all data relevant to the DPP is available in one place. The tedious sending of individual documents back and forth across company boundaries is thus eliminated.
One of the cloud's greatest strengths is its security – as long as the provider meets European standards. These include a number of certifications such as the C5 requirements catalog ("Cloud Computing Compliance Criteria Catalogue") of the Federal Office for Information Security (BSI).
In addition, thanks to cloud technology, companies are able to introduce a rights and roles concept along the entire value chain. This means that participants are only granted access to those documents that correspond to their role in the digital supply chain. Two-factor authentication at log-in provides additional protection for sensitive information.
DPP: Fast access to sustainable information
The Digital Product Passport is an important step towards a sustainable economy and responsible consumption. To meet the requirements of the DPP, it is crucial for companies to face the challenges of data management and focus on the latest data and document management systems. By using cloud technology and integrating an efficient rights and roles concept along the value chain, companies can reap the benefits of the Digital Product Passport while at the same achieving their sustainability goals.
Do you want to control your data secure and transparent along the entire value chain?
Our experts will be happy to present the technical data and document management system Approve on Fabasoft PROCECO to you in a 60-minute live demo and answer all your questions.