Smart factories: Quality Management 4.0 thanks to smart document management
---
---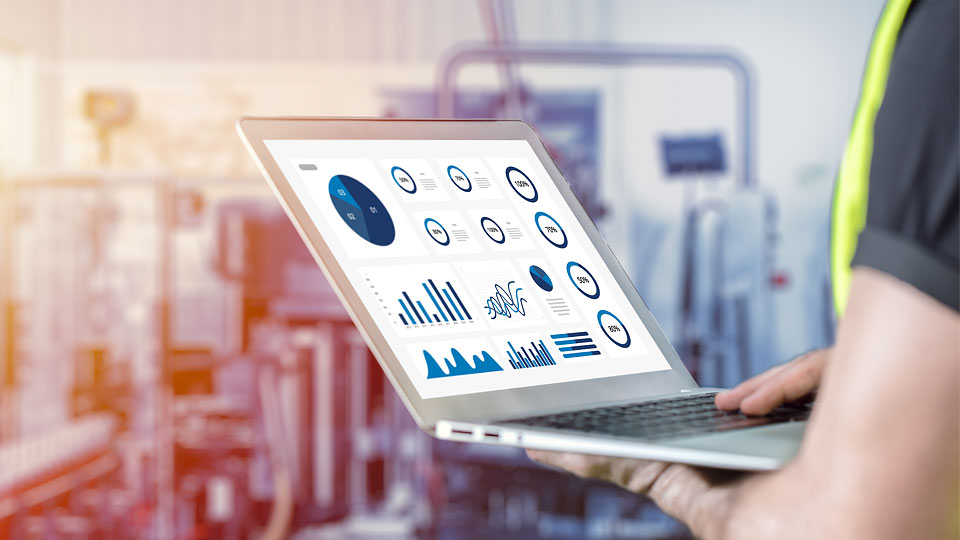 Intelligent Quality Management 4.0 identifies potential defects – even before they occur. It leverages computer-aided, automated systems such as computer-aided quality (CAQ) and predictive quality to specifically harness the exponentially growing volumes of data that smart factories generate. By implementing a smart data and document management system, companies can achieve this kind of information-based quality assurance. In turn, by identifying sources of error along the supply chain and the value chain at an early stage, they can also eliminate high costs downstream while achieving maximum customer satisfaction.
The new significance of quality management in Industry 4.0
Industry 4.0 and the intelligent networking of machines that it entails are making major strides toward modernizing industrial manufacturing. The focus of this digital transformation is on smart factories, where the production environments are largely self-organizing.
Automated processes help to make manufacturing in these types of factories as flexible and efficient as possible. At the same time, factors such as rising cost pressure and constantly growing customer demands are making competition in the manufacturing industry increasingly fierce. Ever shorter innovation cycles are pitted against ever more complex products and a greater variety of models. This trend amplifies the risk of placing defective products on the market, a practice that can result in costly product recalls and enormous damage to a brand's image.
All that makes it essential to be able to pinpoint potential problems at an early stage (predictive quality analytics) with the help of effective quality assurance. The interconnectivity associated with Industry 4.0 calls for a digital Quality Management 4.0 that reflects this.
Detecting defects at an early stage thanks to intelligent quality management
Businesses today are faced with the major hurdle of adapting their quality management to the new market conditions of Industry 4.0. The exponentially surging quantities of data generated in smart factories offer the ideal starting point. They are perfectly suited for Quality Management 4.0.
It does require dedicated software, such as cloud-based technical data and document management tools, used both in-house and along the entire supply and value chains. These systems give all project participants access to the documents they need wherever they are and whenever they need them, provided they have the necessary authorization. What's more, the cloud guarantees that users are always working with the latest version – in other words, a single source of truth.
By connecting all of the information with the help of a smart data and document management system in the cloud, businesses can continually improve their quality management using intelligent systems like CAQ and predictive quality.
Siemens Energy – a case study in innovative CAQ
Siemens Energy employs some 91,000 people throughout the world along the entire energy value chain. In the "power transformers" segment, the Group engineers and manufactures the world's largest transformers for substations at its globally distributed facilities. Plants of this kind are particularly critical to the infrastructure, and as such, must adhere to the most exacting quality requirements.
It was for this reason that Siemens Energy decided to introduce computer-aided quality assurance in the form of a CAQ system for 14 locations in eight countries, with the aim of analyzing and documenting quality-relevant data.
Approve on Fabasoft PROCECO, the quality management software chosen by Siemens Energy, monitors the entire manufacturing process and supports the engineers and technicians in detecting faults in supplier parts early on and rectifying them swiftly. Any discrepancies from the contractually agreed quality criteria can be captured easily on a mobile device and supplemented with additional information. And thanks to the 8D problem-solving method, the persons concerned can see immediately which party is in charge of remedial action.  Any necessary measures are assigned fully automatically and are always traceable.
The knowledge gained from the cross-plant quality management tool is bringing Siemens Energy closer to its goal of predictive quality – in other words, the data-based prediction of product- and process-related quality. Computer-aided monitoring of all parameters makes it possible to make forecasts about potential quality deficiencies along the supply chain. In turn, this means that the necessary steps can be taken to correct the situation before production is completed, preventing enormous follow-on costs in many cases.
Quality Management 4.0 thanks to smart document management
The benefits of using smart quality management software speak for themselves: The tool's exceptionally high level of automation and its intelligent architecture provide crucial support to team members in maintaining permanent quality assurance, while also enabling the company to identify potential errors at an early stage and prevent them proactively.
When used wisely, data-driven automated systems like CAQ and predictive quality deliver substantial cost savings and contribute significantly to quality assurance, ultimately leading to maximum customer satisfaction.
---
Recent articles
---
Digitize your quality-relevant processes sustainably now:
Discover our CAQ system:
---