Companies have a responsibility to produce in a way that conserves resources and is ecologically sustainable. In the course of this, there is close cooperation between research and industry. One technical approach to this is the Digital Product Passport (DPP), which is also supported by the EU.
Digital product passports are regarded as "enablers" of digital twins in the circular economy and fulfill the necessary criteria for this. Basically, it is a data set that summarizes relevant information on products. This includes, for example: Components, materials, (chemical) substances and also data on repairability, spare parts or possible disposal. Data is collected and aggregated from all phases of the product life cycle and used for different purposes (design, manufacturing, use, disposal).
RE-use, RE-furbish and RE-cycling with the DPP
The Digital Product Passport serves as a hub for collaboration along value and supply chains. Players in the circular economy make optimized decisions based on shared information. Through digital exchange, companies and consumers have access at all times to comprehensible details about goods, their components and materials - especially with regard to origin, production, energy balance, CO2 footprint, etc. The digital product passport is a key element in the digitalization process.
The DPP is particularly effective in the areas of RE-use, RE-furbish and RE-cycling, which are topical at the European level. As a digital twin, it maps all essential information of a product, material or similar like a table of contents and thus - correctly implemented as well as decentralized and verified - represents an important, reliable basis for sustainable decisions. In order for the Digital Product Passport to fulfill this role across company and system boundaries, it needs structured data in a standardized, comparable format.
Sustainability through standardization
Gathering information in the circular economy is time-consuming and expensive. The reason for this is often insufficiently standardized communication. Coordination, iterative exchange processes, transforming different formats and reconfiguring data connectors are unfortunately still part of everyday work.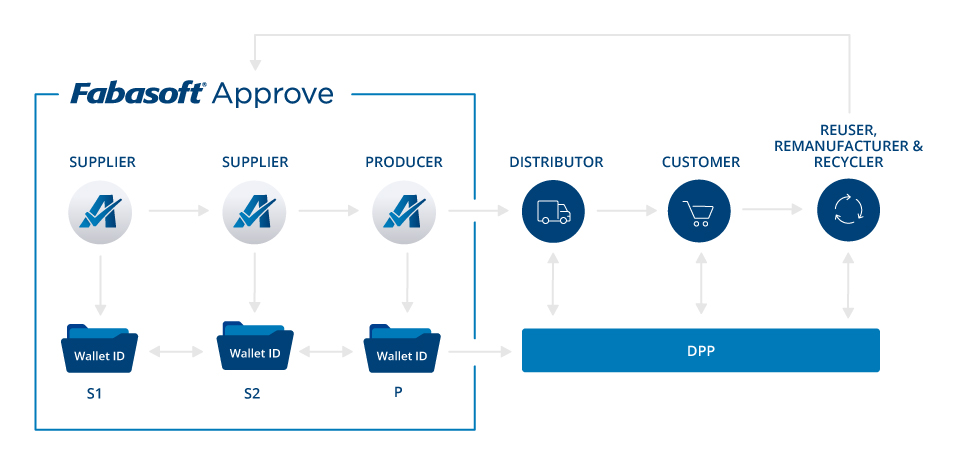 But there is another way. The technical supplier documentation of Fabasoft Approve shows how it is possible to make the value creation between companies and suppliers traceable and to digitalize it. As a cloud-based document management system for industry, Fabasoft Approve specializes in working with technical data and documents. Cross-company processes network all project partners on a central platform and digitally map the complete information lifecycle around industrial goods. The standard product can be adapted very quickly to customer-specific requirements using low-code/no-code. Numerous interfaces ensure simple integration into existing IT systems (e.g. SAP). The DPP enables standardized, correct and system-independent traceability throughout the entire product lifecycle.
First projects from practice
In my view, the battery industry is currently one of the pioneers of the circular economy. According to the EU, "by January 1, 2026, every industrial battery and every battery for electric vehicles placed on the market or put into service with a capacity exceeding 2 kWh must be provided with an electronic 'record', the 'battery passport'."[1]
However, the introduction of the DPP is coming in many (all) industries; first relevant application examples for reducing the CO2 footprint of the supplier industry in Austria already exist. Companies are therefore well advised to quickly address this topic in research on the one hand and increasingly in development or implementation on the other.
[1] source: https://ec.europa.eu