The workload of employees in public administration is constantly increasing. There are many reasons for this: the public sector has been cutting staff for years. Demographic change and the resulting shortage of skilled workers pose major challenges for organisations, which will continue to increase in the coming years as a large proportion of employees in public administration retire. In addition, work has also changed due to the use of information and communication technologies, among other things. The extensive use of smartphones, which make everyday life digital, also increases citizens' expectations that public authorities will act faster and more flexibly and that the quality of service will improve.
Relieving employees of routine tasks
Automations such as Done! on Fabasoft eGOV are therefore also playing an increasingly important role in public administration. They help to retain the knowledge of long-standing employees and make optimum use of an organisation's entire expertise by making processes more efficient and using the existing wealth of information. Done! on Fabasoft eGOV actively relieves employees by taking over manual, repetitive tasks. This frees up time for the tasks that require their expertise. At the same time, the intelligent technology alleviates staff shortages. This increases both the satisfaction of citizens through more efficient and faster processing of enquiries and applications, as well as that of employees. Authorities that rely on automation can work more efficiently and reduce costs compared to others that still rely heavily on manual work processes, making them more cost-effective.
Extract relevant information
Automation can be implemented in two stages: In the first phase, Done! on Fabasoft eGOV identifies and extracts relevant information from documents, processes it and enables important metadata to be populated. In combination with the model-based classification, assessments and suggestions can be made. 
One specific use case for this is inbound processing: with the help of Done! on Fabasoft eGOV, the Fabasoft eGov-Suite understands the context of inbound documents and can therefore suggest a categorisation. Through text extraction, the intelligent technology identifies and extracts relevant information and uses this to fill the required form fields with suitable suggestions. This saves employees from having to manually type in data and only requires them to check, confirm and, if necessary, supplement the data.
Complete automation of processes
In the second stage, this information is used to fully automate workflows and processes. Machine learning and algorithms enable continuous customisation and improvement of the system. User feedback helps to optimise suggestions and the degree of automation, further increasing efficiency and accuracy so that employee interaction is no longer necessary. In the case of inbound processing, this means that there is no need for employees to check or confirm the suggestions generated in the first step and the classification is completely automatic.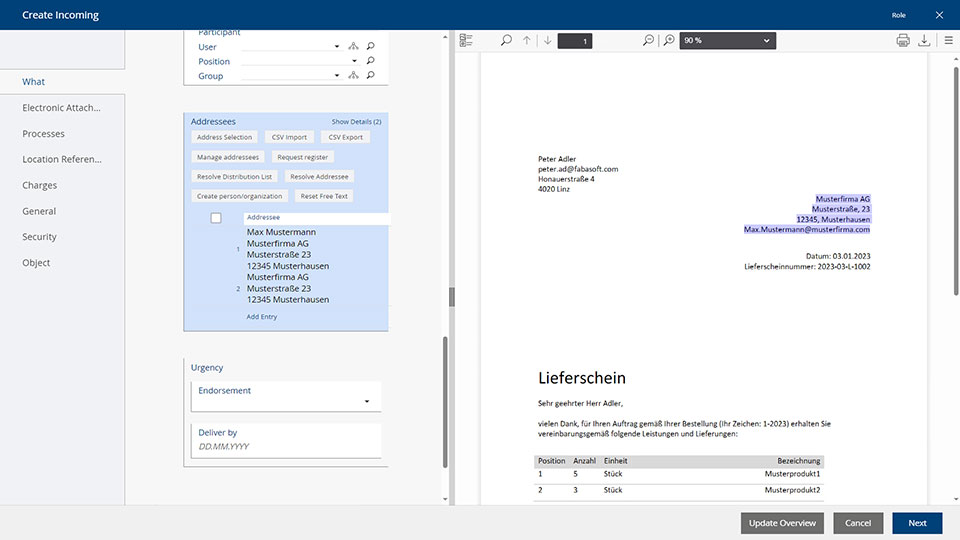 Quick and easy project success 
1. potential analysis
Analysing existing processes and data is the first step in identifying automation potential. The Pareto principle has proven to be a good way of focussing a project in order to create rapid benefits for an authority. Simple activities in particular, which require a lot of time, are predestined to effectively relieve employees.
2.  real data
In the second step, it is crucial to understand the company's wealth of data. This means identifying relevant information and defining rules for classifying data. With a local on-premise installation of Done! on Fabasoft eGOV as an add-on to the Fabasoft eGov-Suite, the software enables access to the entire knowledge of an organisation without media discontinuity and with maximum data security. 
3. support for employees 
An automation tool implements the defined rules and models, relieving employees of repetitive tasks and allowing them to concentrate on value-adding activities.
4. optimisation through user feedback
Done! on Fabasoft eGOV continuously increases efficiency and effectiveness and achieves a continuous improvement in quality by learning from user feedback.
5. complete automation of processes
When processes are fully automated, the software performs numerous tasks automatically so that human intervention is only required in exceptional cases. In addition, a wide range of possible applications in the form of different use cases offer scope for further innovations.
Overall, automation offers a wide range of possibilities for optimising processes and increasing efficiency in public administration. The automation of repetitive tasks saves working time and allows employees to concentrate on other essential activities. More efficient processes also significantly reduce the costs of public administration. Public authorities must utilise this potential in order to successfully overcome challenges such as the shortage of skilled workers and relieve the burden on employees.
Find out from our Professional Services team how you can utilise the potential in your authority by using Done! on Fabasoft eGOV.