We have some exciting news: The Fabasoft Cloud 2020 June release makes it possible to sign PDF documents – like contracts, agreements, protocols, and business letters – digitally. This means that both cross-departmental and cross-company business processes can be digitalised and accelerated from end to end, speeding up processing times many times over and slashing costs dramatically. In addition, the approval procedure for customising objects has been significantly simplified and standardised. Now, administrators can configure the settings for logging in via Active Directory or SAML 2.0 on their own.
New features and upgrades for end users
Sign documents digitally in just a few clicks
By using digital signatures in Fabasoft Business Process Cloud, documents can be signed with no interruption in media format, and business processes like concluding contracts can be handled more efficiently. Time-consuming manual tasks such as printing, signing, and scanning documents are now a thing of the past.
The term "digital signature" refers to a series of cryptographic processes based on a combination of public and private keys that can be used to verify the integrity of a document. This means that signed documents cannot be unnoticeably altered.
Organisation certificates form the basis for digital signatures
To create a digital signature, you store one or more digital certificates in your cloud organisation in Fabasoft Business Process Cloud. You can specify the users who are allowed to use these certificates for signing. You then select the desired certificate when executing the digital signature. This not only safeguards the integrity of the document, it also establishes a link between the signature and that particular certificate (for instance, signing on behalf of a specific company).
If your cloud organisation doesn't have its own organisation certificates stored, or if there is no certificate that has been approved for you to use, you can sign using a certificate provided by Fabasoft Business Process Cloud. This way you can confirm that the document has not been modified from the time it was signed.
The signer's identity is authenticated using a digital certificate, confirming that no changes were made to the document after it was signed.
Signing documents digitally in Fabasoft Business Process Cloud
To add a digital signature to a PDF document, click "Sign" on the PDF document's pop-up menu. Then select the certificate corresponding to the digital signature, add an annotation if you wish, and click "Sign".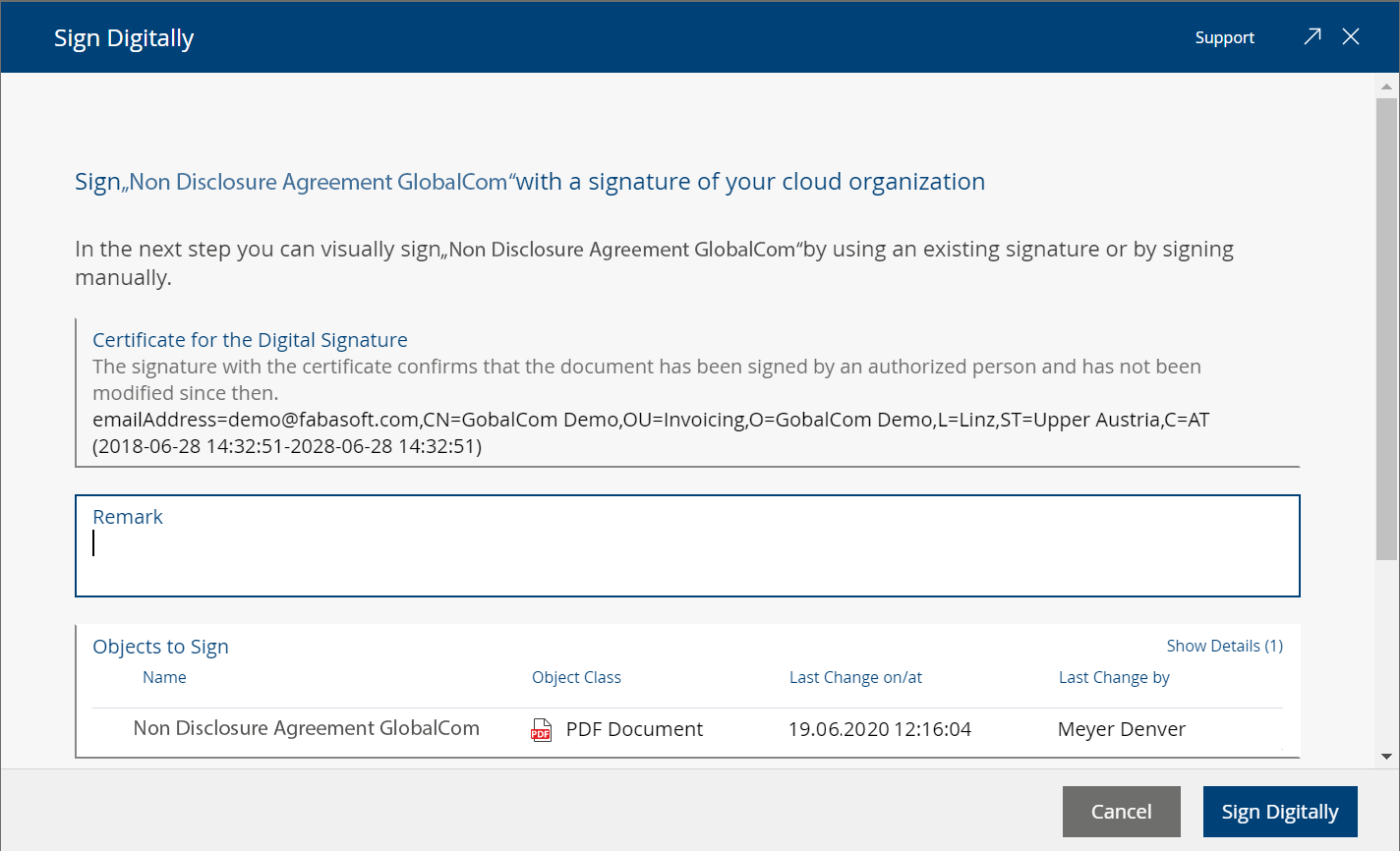 In the next step, you can also add a visual signature to the PDF document in addition to the digital signature. Every user can upload and manage visual signatures independently under "Account menu (your username)" > "Advanced settings" > "My signatures". The organisation certificates that have been approved for you to use are also displayed there.

The document has now been digitally signed. This makes it possible to verify that the document has not been changed. Moreover, the signature is linked to the corresponding certificate. The visual signature is visible in a PDF viewer (such as Adobe Acrobat) so that everyone involved can see that this document has been digitally signed.
Digital signatures can also be integrated into workflows. This lets you involve your co-workers, customers, or suppliers in the signing processes. Here, too, you can define a corresponding deadline for signing. Automated notifications remind the signer to sign the document. As soon as that has been done, the process initiator receives an automatic notification.
Adding text elements to digital signatures
The Fabasoft Cloud 2020 August release allows you to insert both predefined and freely definable text elements in addition to your visual signature.
The following text fields are typically required in connection with signatures. Like the visual signature, they are part of the signature block of the digital signature:
Place
Place and date
Date (short and long form)
Name
Company position
Any text can be added to the signature block using an empty text field.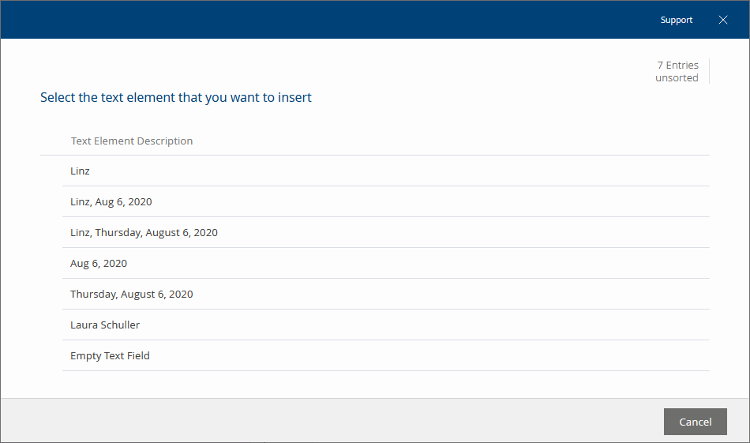 The advantages of digital signatures in the cloud
Besides guaranteeing that a given document has not been manipulated, digital signing in Fabasoft Business Process Cloud delivers even more advantages: flexibility in terms of location and time, complete transparency and traceability across the entire signing process, secure transfer of sensitive documents, and revision-secure archiving of all signed documents.
All Fabasoft Cloud Enterprise Edition users can use digital signature services free of charge. If you are a Fabasoft Cloud Professional Edition user and would like to sign documents digitally, please contact cloud@fabasoft.com.
Fabasoft Cloud 2020 November release delivers key improvements
Expanded options for creating visual signatures plus heightened security
The Fabasoft Cloud 2020 November release offers significantly enhanced possibilities for creating visual signatures. In the future, users will be able to generate handwritten and textual signatures as well as captions for images. When a signature is entered, an identifier (the hash value of the "Fabasoft Cloud ID") is inserted in addition to the visual signature, uniquely identifying the Fabasoft Business Process Cloud user. This ensures that users can still be clearly identified even if their visual signature changes or their name is changed, such as in the event of marriage.
Signing and finalizing documents
To add a digital signature to a Word document, select the menu item "Sign and Finalize." This converts the document into a PDF and then opens it to be signed. Documents can be digitally signed either by using the "Sign and Finalize" command in the context menu or when the workflow activity "Sign and Finalize" is prompted.
Integrating non-registered users into contract processes
The Fabasoft Cloud 2020 November release makes it possible for the first time to incorporate unregistered users into workflow activities. This enables individuals who don't already have a cloud account to be designated as active process participants. As a result, tasks like signing documents digitally can be transferred directly to suppliers, customers, or even to colleagues who are not yet members of the organization.
The users involved then receive an e-mail with a registration link. Once the user has logged in (a valid license for Fabasoft Business Process Cloud is required), he or she can carry out the activity straight away. Removing the need to wait until a user has registered accelerates the process enormously.
New features and upgrades for administrators, process designers, and form designers
A simplified and standardised approval concept for customising objects
The June release brings about substantial standardisation to the approval concept for customising objects that allow you to adapt the Fabasoft Business Process Cloud to your company-specific needs and requirements. The new, simplified concept covers the following objects:
Templates
Text modules
Forms
Categories
Processes
View settings
Search forms
These objects are managed at different levels: for the entire organisation, in apps (like Fabasoft Contracts), at the team room level, or for each user individually. The area of application is determined by the level at which these customising objects are created. Before you can use customising objects, they have to be approved for use according to the context.
Up to now, for instance, a contract template was available to all users immediately after it was created in contract management. With the new update, newly created customising objects – such as templates – must be approved in advance. This fact is significant because contract templates have to be reviewed by the legal department before they can be used. If changes are made to the template, it can be modified and approved again for other users.
To ensure that existing templates and presets continue to work as expected, they are migrated automatically. You can find more information about this in the white paper "Release and Migration of Customizing Objects".
New features and upgrades for administrators
Configuring digital signatures
To be able to use your own certificates to digitally sign documents, the corresponding certificates have to be stored in the organisation ("Advanced Settings" > Action "Configure digital signatures"). You can also define which organisation members are authorised and allowed to use the certificates for digital signatures. They can be individual users as well as organisational units or teams. With the new release, you can now define multiple certificates in your cloud organisation.
Configuring the login via Active Directory or SAML 2.0
You can now configure the settings yourself to enable login using Active Directory or SAML 2.0. To do this, you'll need to configure your login server and also configure the settings in your cloud organisation. In addition, multiple login servers can now be stored. Using single sign-on makes collaboration with external users even faster. For a detailed description of how to configure the login via Active Directory or SAML, see Administration Help.
You can find a detailed description along with other new features of the Fabasoft Cloud 2020 June release here.