Nowadays, companies looking for professional ECM software have to find the right solution for their specific requirements from a large number of different providers. This is not an easy task, and it is not uncommon for companies to lose sight of the big picture. This is where renowned IT analysts such as Gartner and Forrester come in, providing an insight into the software landscape available on the market.
In these analyses, however, emotional criteria such as the relationship between provider and customer and the associated relationship of trust usually play a subordinate role. For many decision-makers, however, it is precisely this trust that is one of the most important criteria in the acquisition process for new software. SoftwareReviews takes a more modern approach with its recently published ECM Data Quadrant Report 2020.
Customer satisfaction as a benchmark
The peculiarity of this report is that the positioning is not based on the opinion of analysts, as is usually the case, but on the assessment of actual users of the software, who also use it on a daily basis. Not only is the experience with the software itself assessed, but also the relationship and cooperation with its provider.
These application-oriented criteria provide a comprehensive understanding of the product. At the same time, they help to identify the right one among the mass of different software manufacturers. In this way, decision-makers gain authentic insights into the experience of users and can make use of the expertise of the real product experts around the purchase of ECM software.
David Piazza, president of SoftwareReviews, again emphasizes the importance of mutual appreciation based on trust: "Decision-makers are increasingly relying on data and feedback from colleagues when choosing software. However, data on functionality alone is not enough. The relationship between customer and provider must also be right. We measure this experience with what we call the Emotional Footprint. The strong showing on the Emotional Footprint demonstrates the efforts Approve on Fabasoft PROCECO has put towards building strong relationships with its customers."
Approve achieves highest ratings in customer satisfaction and product features
Approve on Fabasoft PROCECO, the standard product for the management of technical documents in industry, was placed as the absolute leader among 14 well-known software vendors in SoftwareReviews' ECM Data Quadrant Report 2020.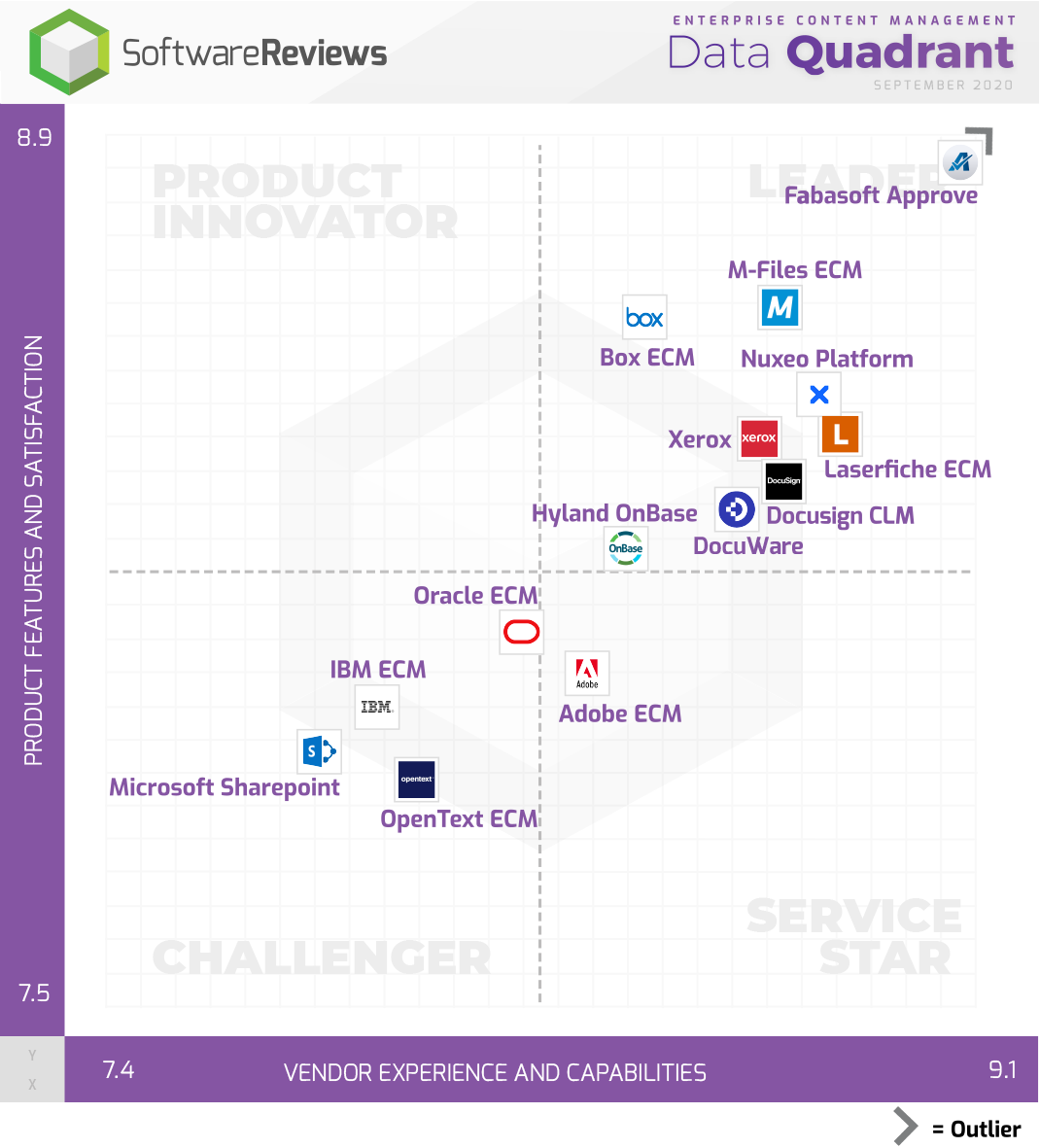 Approve achieved the highest positioning in the categories "Customer satisfaction and product features" and "Experience with the provider". Users of the software particularly emphasized the generation of real business value, qualitative and well-designed product features, and the excellent support provided by Fabasoft. In these areas Approve was able to prevail over all competitors.
My thanks go to all users of Approve
Of course, I am particularly pleased with the positive feedback from our users. This confirms the above-average work of the Fabasoft team and shows that we have our finger on the pulse with our "Customer First" philosophy.