How are the EU security catalog "European Cybersecurity Certification Scheme for Cloud Services" (EUCS) and the "Company Compliance Dashboard" (CCD) related in the context of MEDINA? And what role does Fabasoft play in the Horizon 2020 project?
Answers to these and other questions about current research activities in the field of (partially) automated and real-time certified cloud computing were presented by Björn Fanta (Head of Fabasoft Research) at the European Telecommunications Standards Institute (ETSI) security conference.
In addition, Franz Deimling (Fabasoft Research Alliances) presented the MEDINA component AMOE (Assessment and Management of Organisational Evidence) in the form of a poster and demo during the breaks. The prototype for reviewing policy documents such as data protection and IT security guidelines in the audit process is based on pre-trained models. The metrics adapted for these purposes consist of questions, keywords and target values. The calculated indications support internal and external managers in the compliance evaluation.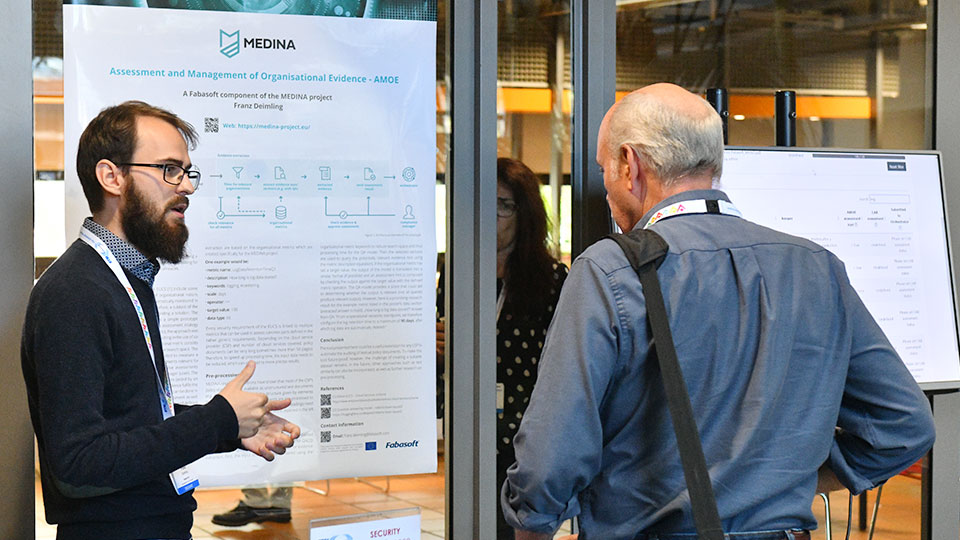 Franz Deimling (Fabasoft Research Alliances) explains the MEDINA component AMOE (Photo: Fabasoft).
The event, held  3-5 October 2022, in Sophia-Antipolis, France, was attended by nearly 200 people from 27 countries. Experts from the European Commission, governments, standardization bodies and various industry sectors provided information on the status quo and future of cybersecurity. The focus was on the global regulatory and certification landscape, specific challenges, and the development of new technologies based on various research projects and proofs of concept.
Links ETSI Security Conference 2022:
Program of the ETSI Security Conference 2022
Presentation MEDINA project by Björn Fanta
AMOE poster by Franz Deimling