Certified security
Choose a secure data location within Germany, Austria, or Switzerland.
Collaboration made easy
Work collaboratively with your third-party contractors in a shared contract management software.
Mobile access
Access your contract documents from anywhere at any time with the mobile app.
DRAG. DROP. DIGITIZE.
Fast-track your contract management.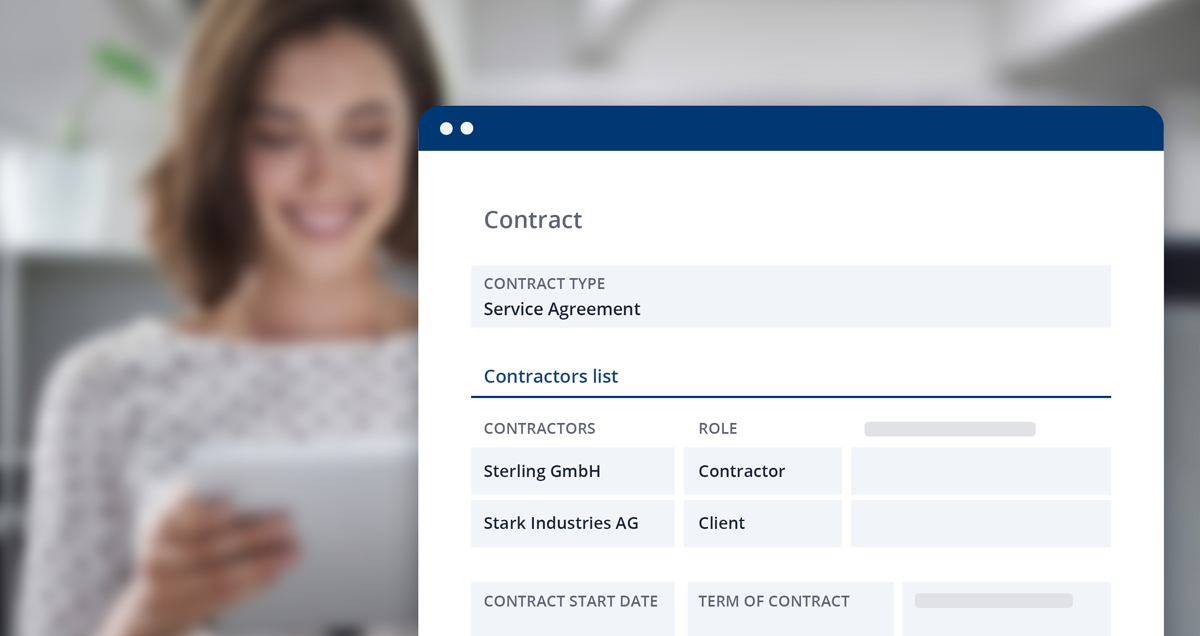 Capture contracts automatically using drag-and-drop functionality.
Put your contract portfolio on the fast track to digitalization: This intelligent software can begin extracting all your contract-related data immediately. Specify customized contract fields to structure and locate your contracts instantly.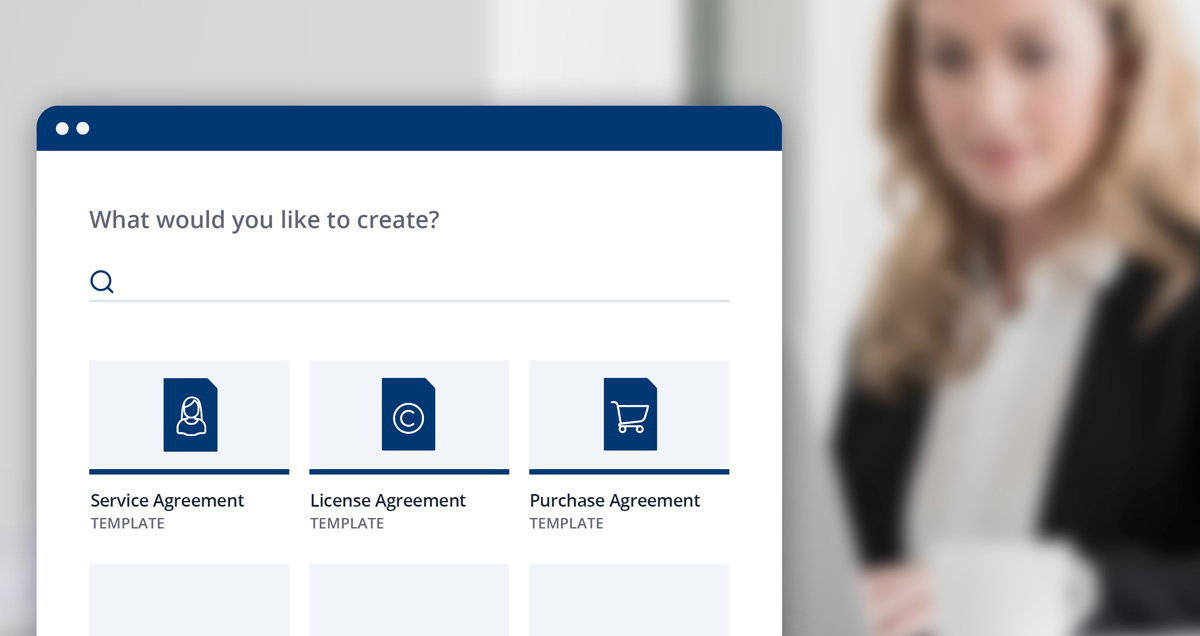 Generate your contracts automatically (and traceably).
Share approved contract templates with your co-workers in other departments. Take advantage of boilerplate text modules and the contract clause library. Invite external partners to collaborate securely in the certified cloud environment.
EXPLORE. EVALUATE. EXECUTE.
Make smarter decisions faster.
Gain an instant overview of all your contracts with clear, easy-to-read dashboards. Intelligent search provides real-time responses to queries about contract details. Dynamic reporting empowers you to spot opportunities and risks at the touch of a button.
REMIND. REACT. RELAX.
Keep your deadlines squarely in sight.
Connect your personal calendar with the contract management software and enjoy the convenience of a clearly structured deadline management system. Contracts automatically reminds you of any upcoming events and deadlines using push and e-mail notifications.
ANYWHERE AND ANYTIME.
Sign your contracts whenever and wherever you want.
The native and legally binding digital signature capability accelerates your signing process – also available in the mobile app. This makes concluding contracts fast and straightforward.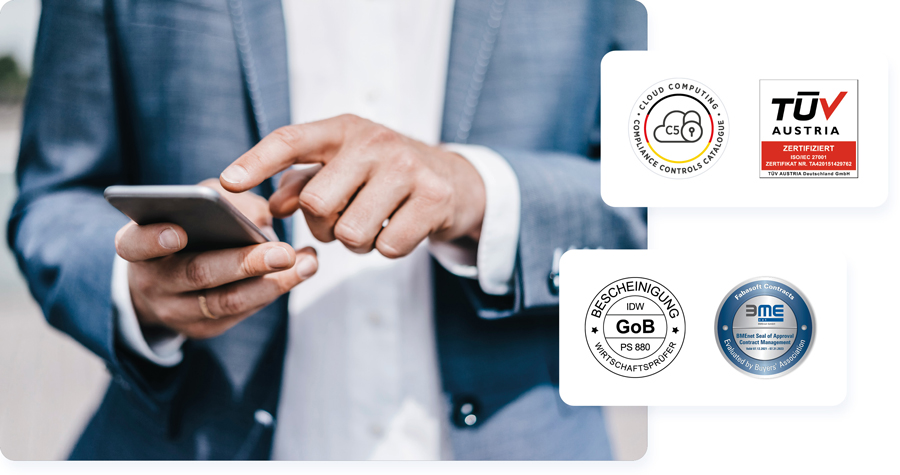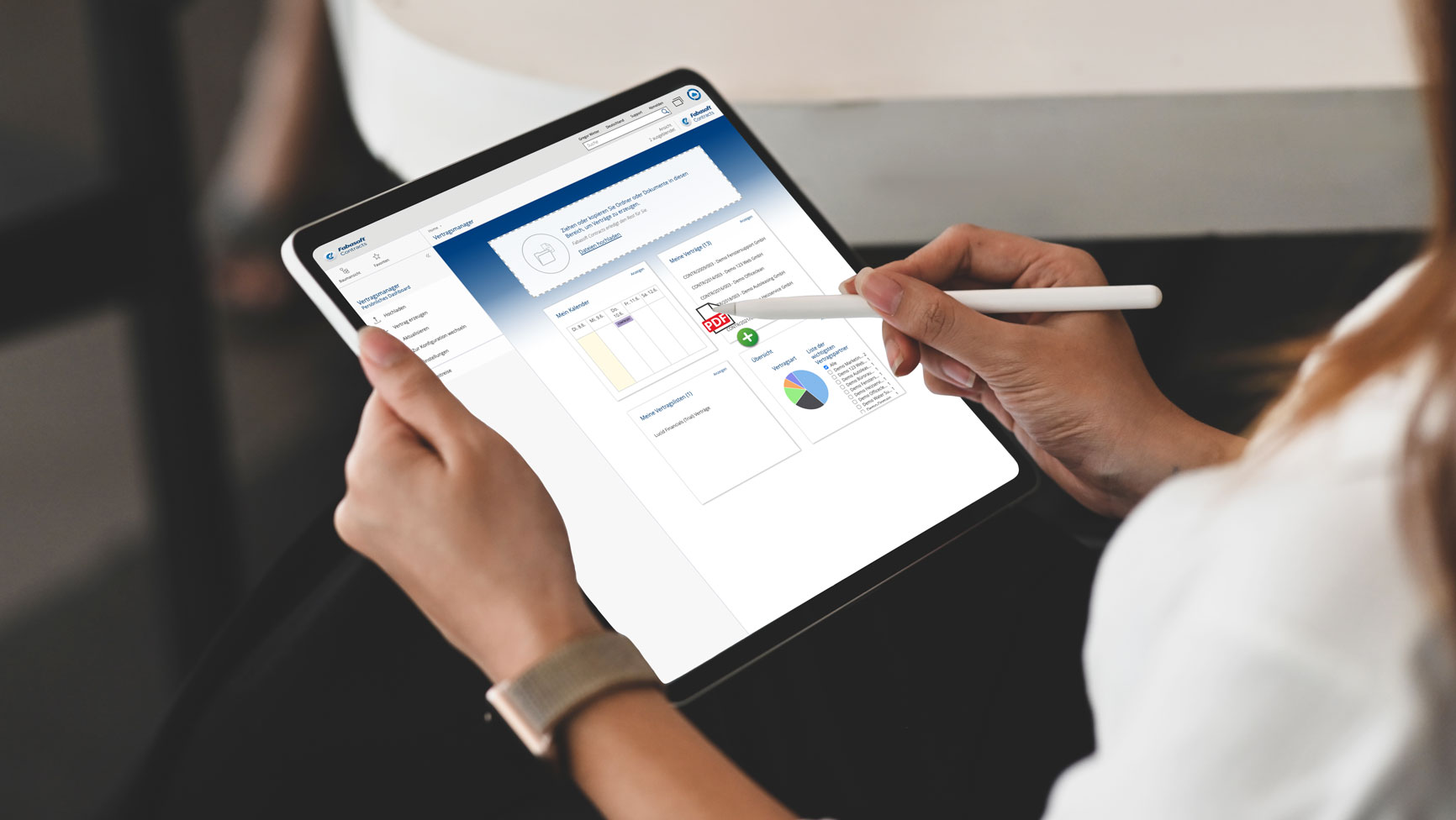 ASK. ASSIGN. ADVICE.
Optimize your legal matter management.
Use structured workflows, traceable documentation, and revision-secure archiving for all documents and information to effectively manage the handling of your legal affairs. By digitalizing requests and inquiries and linking legal and contractual files, you can ensure maximum transparency.
DISCOVER NOW
The Advantages of Modern Contract Management
Learn why intelligent contract management software will be essential for businesses in the future in the resources below.
Learn more