Fabasoft certified as a family-friendly employer
Released on 03. March 2022
---
Bernadett Humer, MSc, section head of Family and Youth, awarded Fabasoft the "Family-Friendly Employer" federal seal of quality from Familie & Beruf Management GmbH as part of the digital certificate award ceremony held on March 2, 2022.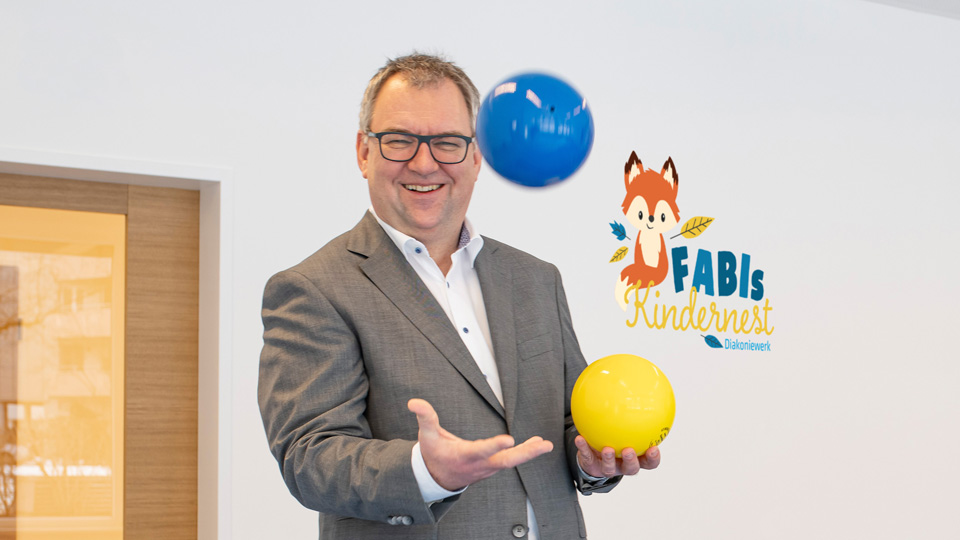 By achieving berufundfamilie certification, Linz-based software company Fabasoft has now formally demonstrated that creating the ideal staff environment is one of its highest priorities, in keeping with its employer branding slogan "We really care about our experts."
"Ensuring a balance between work, family, and private life has always been a major focus for Fabasoft. Being honored as a family-friendly employer underscores our special commitment to providing our employees with the best possible support along these lines," emphasizes Helmut Fallmann, member of the Fabasoft Board of Directors.
"FABI's Kindernest" – the heart of the initiative
The flagship project of this family-friendly employer was the opening of "FABI's Kindernest" in 2021. Children of Fabasoft employees between ages one and three receive personalized care by qualified educators from Diakoniewerk Oberösterreich at the on-site childcare facility – located directly at the Fabasoft headquarters in Linz. Currently, there are nine children receiving care. The group will expand to accommodate 14 children in the coming months due to high demand among the staff. The opening hours are based on the actual needs of the employees, allowing for easy planning and a high level of flexibility. Fabasoft also hosts "FABI's Summer Camp" during school vacation breaks for children between the ages of four and ten.
Further projects of the family-friendly employer
The certification process also considered Fabasoft's wide-ranging program of corporate measures, which includes a total of nine projects aimed at expanding internal family-friendly structures. Fabasoft is focusing on advancing issues related to working hours, information and communication policies, leadership culture, parenthood, maternity leave, and re-entry into the workforce. Key initiatives include the parental leave café, a place for mutual exchange, as well as flexible work time models like flextime and working from home. 
About berufundfamilie
The berufundfamilie certification is a tailor-made instrument for companies in all sectors and of all sizes (starting from five employees), legal structures, and forms of business ownership. Qualified consultants oversee the certification process, supporting companies in defining, evaluating, and planning family-friendly initiatives. Every year, the non-profit organization Familie & Beruf Management GmbH honors companies that make outstanding contributions towards supporting the private lives of their employees.
Find more information at www.familieundberuf.at
About Fabasoft
Fabasoft is among the leading software product companies and cloud service providers in Europe for digital document management as well as electronic document, process, and records management. For more than three decades, numerous reputable private enterprises and public sector organizations have placed their trust in Fabasoft's long-standing quality and experience.