The Identification System for Power Stations (KKS) and the Document Kind Classification Code (DCC) play a crucial role in technical documentation, especially in plant documentation. In power supply companies, the KKS helps improve the efficiency of technical documentation by providing a uniform method for classifying components. The DCC, in turn, enables efficient document management by categorizing technical documents according to type, content, and scope of application.
The importance of classifying technical documents
I multi-layered technical environments such as power plants or industrial facilities., countless systems, equipment, and operating resources are in use. The scope of documentation required for this often comprises several 100,000 documents. It is therefore essential to identify and classify this multitude of components and the associated documents in a uniform manner. In practice, two standardized systems have become established in particular: the Identification System for Power Stations (KKS) and the Document Kind Classification Code (DCC).
Structured identification and classification thanks to KKS
The Identification System for Power Stations (KKS) is a plant identification system that is mainly used by utility companies (electricity and heat supply) to clearly identify and classify components of a power plant. The aim is to provide a uniform identification system for all types of power plants and the associated processes.
Since the beginning of the 1970s, the KKS has been developed by the international interest group VGB PowerTech, which is constantly working on the further development and publication of current VGB guidelines that serve as regulations for the KKS.
The use of a KKS is of great value in plant documentation:
Technical documentation: A correct and uniform identification enables technical drawings, operating and maintenance instructions, safety protocols and other documents to be more easily allocated and understood.
Uniform identification: In large industrial plants or power plants, the KKS ensures that, despite the large number of different components, each is clearly and uniformly identified.
Clear communication: Using a standardized identification system with language-independent coding simplifies communication between departments, both within and outside the company.
Maintenance and operation: Rapid identification of components facilitates maintenance and operation, which ensures smooth plant operation and minimizes downtimes.
The KKS thus not only promotes clear communication and better understanding between different departments, but it also enables efficient documentation and administration. Thanks to this system, the operating personnel can ensure that all parts of a plant are identified consistently and uniquely, which in turn facilitates plant operation, maintenance, and expansion.
Document classification with the DCC
The document type code, better known as the "Document Kind Classification Code" (DCC), is a hierarchical classification system governed by the EN 61355-1 standard. It is used to categorize documents according to their type, content, and scope, thus facilitating the structured search, management and referencing of documents in technical and industrial environments.
By accurately categorizing documents by type and purpose, the DCC helps create an organized and clear structure for a project's technical documentation, which in turn improves quality, communication, and collaboration in technical projects.
Structure of the document identification
The Identification System for Power Plants consists of a 15- to 17-digit combination of letters and numbers with a maximum of four breakdown levels and bindingly pre-defined data locations. The KKS addressing system is hierarchical, with the top breakdown level designating the overall plant. The levels below determine the functional overall system, the aggregate and ultimately the associated equipment.
A DCC system, in turn, consists of alphanumeric codes that allow documents to be precisely identified and thus classified into very specific categories. The structure of a DCC code can vary depending on the organization or industry, but it usually follows a uniform set of rules.
For example, if employees of a steam power plant want to maintain a pump, they need the maintenance instructions for that specific pump. To find this, they first enter the specific combination of letters and numbers into the system. The maintenance instructions can then be found quickly and easily using the designated DCC code "DC".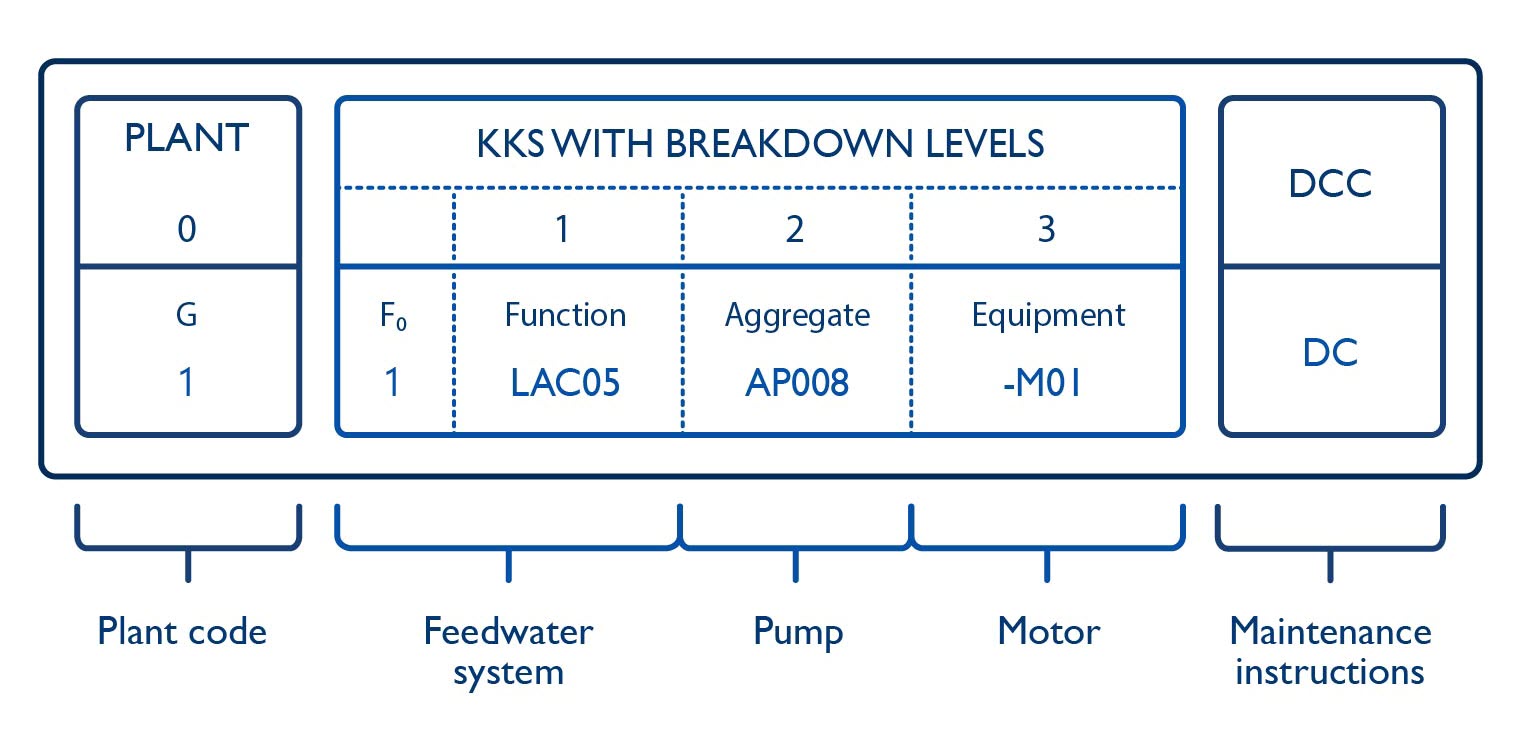 Illustration: This document code describes the maintenance instructions for a specific pump
Efficient administration with a document management system
The integration of KKS and DCC into an intelligent data and document management system (DMS) such as Approve on Fabasoft PROCECO enables a significant increase in efficiency for large technical projects such as plant documentation.
A smart DMS digitally manages the hierarchical structures of a corresponding object such as a power plant in one place. Employees simply search the shared data environment for the corresponding stored KKS or DCC codes instead of entering long file names or descriptions. This makes it quick and easy to identify the right documents for any given use case. Changes to the document classification are also documented in a traceable manner at all times, thus minimizing the risk of incorrect allocations.
An intelligent data and document management system therefore ensures that all project participants have the same level of information and that large projects run smoothly and efficiently.
KKS and DCC ensure structure and clarity in industrial environments
Identification systems such as the KKS and the DCC make a significant contribution to efficient technical documentation. Document classification of this kind provides a structured approach to the identification, classification, and documentation of plant components and documents. Moreover, it improves quality and ensures clear communication in technical environments.
Integration into a modern data and document management system boosts the efficiency, accuracy, and traceability of the documentation and creates the basis for smooth processes. In plant documentation, an intelligent DMS supports the implementation of KKS and DCC by enabling the proper allocation of documents to the corresponding plant components. In this way, it not only speeds up internal processes, but also ensures shorter overall runtimes for larger industrial projects.
You are interested in a smart DMS that supports you in the implementation of KKS and DCC?
Our experts will be happy to present the technical data and document management system Approve on Fabasoft PROCECO to you in a 60-minute live demo and answer all your questions.